Cats: Unknown with cats
Dogs: Good with other dogs
Children: 8+ years old
Update 2/6/20 -
Handsome Harley is quite the stunner and a big boy.  He is about 36" at the shoulder and weighs about 135-140 pounds.  He has wonderful manners, does not get on furniture and never pulls during his walks. He has never had an 'accident' in the house.
He responds extremely well to verbal commands. Although he often looks serious he does have a playful side. He loves chasing his Jolly ball in the yard and sometimes gets a case of the 'zoomies'. He can be very expressive and will make you laugh with some of the faces he makes. 
Harley has graduated from two levels of group obedience class. Being with the other dogs in a class has not been an issue.
When he came to us he was petrified of everything. He has really made great strides and has become more social. Hearing loud noises does not immobilize him any longer.  He has really blossomed in his foster home from the fearful dog he once was. 
Like many Danes he just loves being with his people. Sometimes though, he will go off to a quiet place by himself for a nap. He will let you bathe him, Dremel his nails and perform other grooming on him.  Harley needs an owner who understands the signals he gives, who can give him the confidence and direction he needs and who will provide a calm home with structure. 
Update 1/19/20 - As stated in earlier updates Harley is making phenomenal progress. He made it through the holidays without incident, meeting new people, the hustle and bustle of Christmas dinner gatherings, the addition of decorations in the house and gifts under the tree. Harley had an enjoyable time. It was mentioned by a friend of the foster mom and dad, "this is a completely different dog from the one you brought home originally". Harley completed level 2 obedience training in December and awaits the start of his level 3 obedience challenge, which we're sure he will master without a problem. He has adjusted very well to his daily routine and gets along with his foster sister. He is especially happy when out back chasing his "Jolly Ball", he also likes lying around the house doing nothing!!
Because Harley was making such positive progress, his foster parents rescued a male Dane puppy in November, which was quite a surprise to Harley. We can't say he was happy about the new guy, as stated in earlier updates he gets anxious with high energy situations. Fortunately, there has not been any shows of aggression from Harley however, he will bark to show his displeasure when the puppy acts excited (which if you ever had a puppy you know that's often). The puppy is secluded in the family room and kitchen area and Harley has the rest of the house to enjoy. To date we are happy to report they get along well without incident but are still separated by a baby gate. Harley is not as anxious when the puppy gets excited, we believe he is getting used to the puppy being in the home. This just further suggests Harley will exist with another dog positively provided there is a slow introduction and patience during the process. It was suggested earlier that Harley be in a home as the only dog, because of his progress we now feel he will also be able to live with a well-mannered, calm dog after proper introductions. Harley is a diamond in the rough and well worth considering. He came to MAGDRL without proper training or socialization and has since become a well-mannered, obedient and more confident Dane.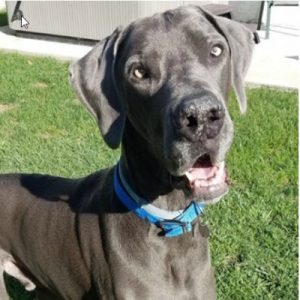 Update 11/23/19 - We continue to marvel at Harley's progress! He has settled nicely into the routine at his foster home and is quite the calm dog. He is such a sweet guy. Originally it was recommended he be the only dog in the home but with the progress he's made in his foster home, it's apparent he can get along with another dog provided there is a slow introduction period in a calm setting. He likes napping in the sun as well as his playtime in the yard, chasing his Jolly Ball (see attached video). He walks perfectly on leash while on his daily walk. If he encounters an out of control dog on a walk and starts looking, a firm, "leave it" makes him turn away. He is doing great in his level 2 obedience class and is good in the car on the way to class. He is well-mannered and does not get on furniture uninvited, but will he will sit on your lap if you allow it. He shows interest in food if on the counter but has not helped himself to anything. Again, a firm "leave it" command, will make him back away. He's a sweet, fun-loving gentle giant who can't wait to meet his new family!
Update 11/2/19 - Harley is becoming a very happy and playful guy. His facial expressions will make you smile. Everyone remarks on what a handsome boy he is. Harley is making great progress in his foster home, and his showing his true personality and playful side. Harley is quite the vocal Dane, he will talk to you when he needs to go out, for play and when he feels it's time to eat. He is learning manners and has been getting along very well with the female Rottie in the foster home. He is responding well to commands and shows no issues with the other dogs. He just really want to please his people. When he first arrived his tail was constantly between his legs and now it is wagging joyfully. Harley is at his best when he is out playing with is Jolly Ball in the backyard, he loves running with that giant ball in his mouth and will bring it to you so you can throw it for him. He has such a great time zooming around! Harley is still a pleasure to walk in the neighborhood and has had no incidents with other dogs he sees while walking. He is by your side and listens to commands while heeling. He loves to get out for the walks! Harley has made great strides and responds really well to verbal commands. He "waits" for his dinner, and by the doorway and on the stairs. He "sits" and lays "down" on command. He is a fast learner. He enjoys the routine in the foster home and thrives on a schedule. He really is a sweet boy and will be a great addition to a quieter home where he can ALL the attention he deserves!
Update 10/26/19 - We are so proud of Harleys progress!! He recently graduated Level One Obedience Training (see attached photo). While the other dogs were reactive at times Harley remained calm and attentive to his handler. He has mastered the following commands; watch handler, sit, wait (at the door & for food), down, come and leave it, to name a few. Harley is a calm dog that just wants to be with and to please his people. He is developing into a confident dog when meeting new people or placed in different surroundings. When meeting new people he will initially be extremely close to his people, however, it is taking him less time to get comfortable. It is still recommended that Harley be the only dog in the house. He is more tolerant then when he first came to the rescue, however, starting in a new home it may take some time for him to trust his new family. Once he gains that trust it will be well worth the wait.
Added 06/2019
Harley is a handsome 5 year old blue male with natural ears. He is healthy, neutered, playful and housebroken (he's quite vocal when asked if he needs to go "out"). Harley came to rescue when his owner could no longer control him. He lived with two older dogs and was showing dominance toward them. His owner worked long hours and felt it would be better if he was adopted by a family that could spend the proper amount of time with him. When Harley arrived at his foster home, he was on puppy Prozac. The first weekend he was greeted with thunderstorms and fireworks and he was extremely nervous and restless. Once Harley was comfortable with his new surroundings, we conferred with a Veterinarian and Harley was weaned off the Prozac. It was then we saw his true personality emerge. Harley has since become a calm Dane wanting to be with his foster family, he is learning the rules, boundaries and limitations that were missing in his previous home. He loves to play in the backyard with his Jolly Ball. Although improving, Harley has shown some possessive traits which necessitated the occasional use of a soft muzzle when around his foster sister, mostly showing slight possessive tendencies when food is involved. Harley has made major progress however, it is recommended he be adopted into a home where he is the only dog. Harley walks extremely well on a leash and displays no aggression towards other dogs while on his walk. He has visited Lowe's where he was greeted by shoppers (adults and children), lumber carts, shopping carts and a forklift. He was calm throughout the adventure at first hiding his tail but overall it was a very positive visit. Harley is currently in a Level One Basic Obedience class where he is doing very well. Harley learns very quickly and wants to please his people, he will "sit" and "wait" for his dinner while "looking" at you before being "released" to eat. He will sit calmly while his nails are trammeled. When left alone he is in a separate room without incident and greets his people with his favorite toy. Harley will do best in a home with a strong owner(s) who will continue training him and enforcing good canine manners. Harley is a Great Dane worth looking at if you want a dog that will shower you with unconditional love for giving him his forever home. Harley came to MAGDRL in June 2019. (2)